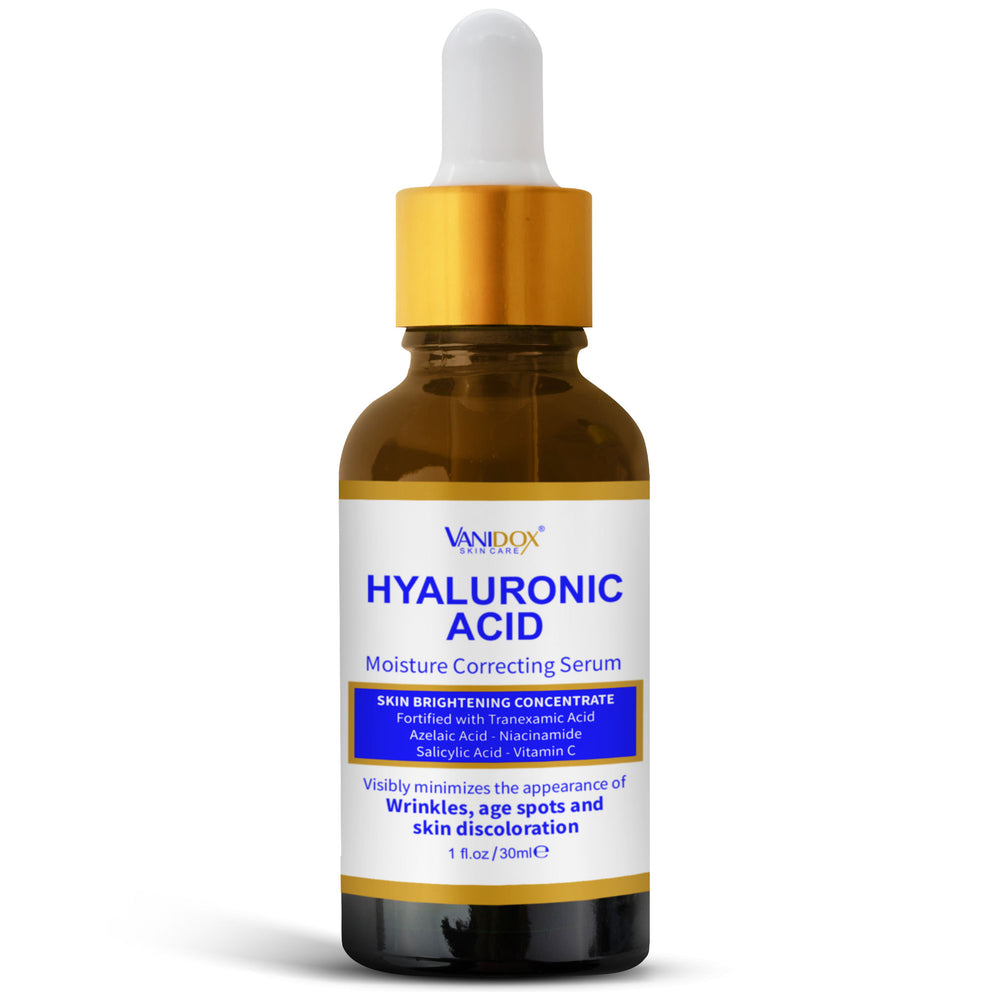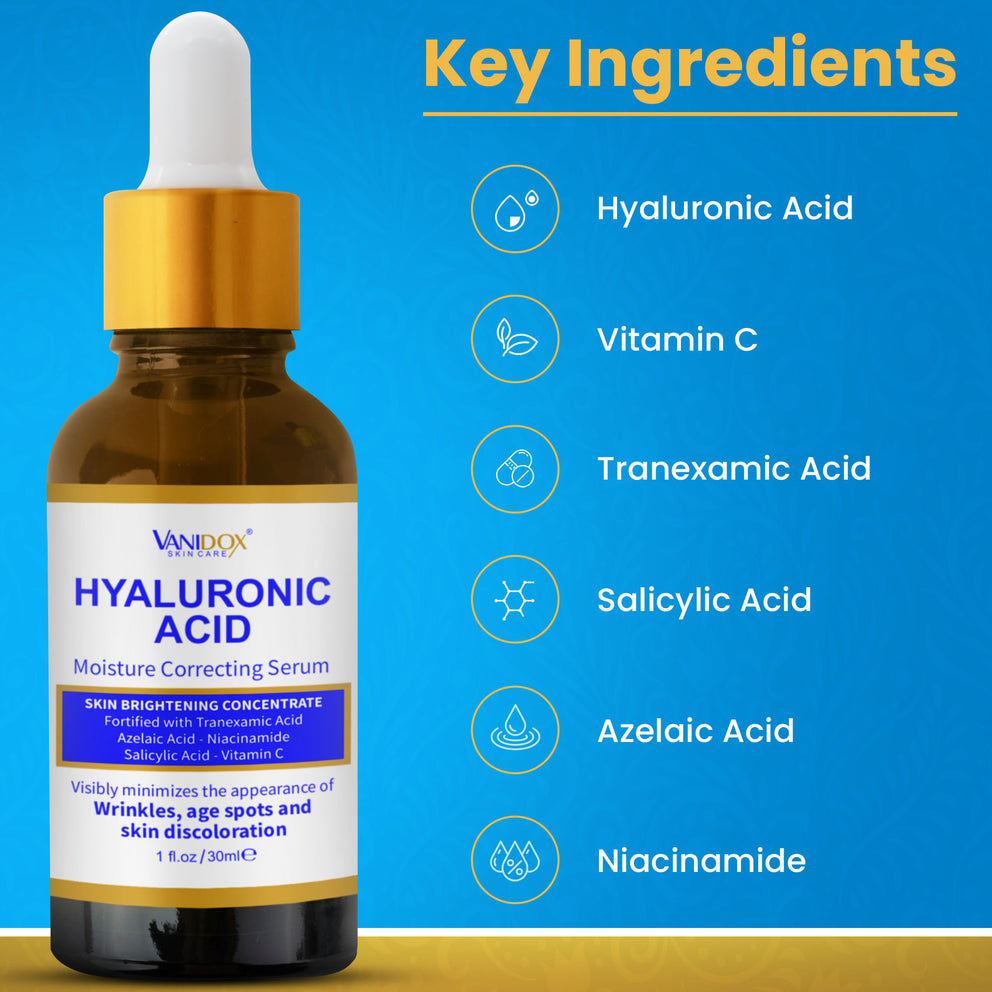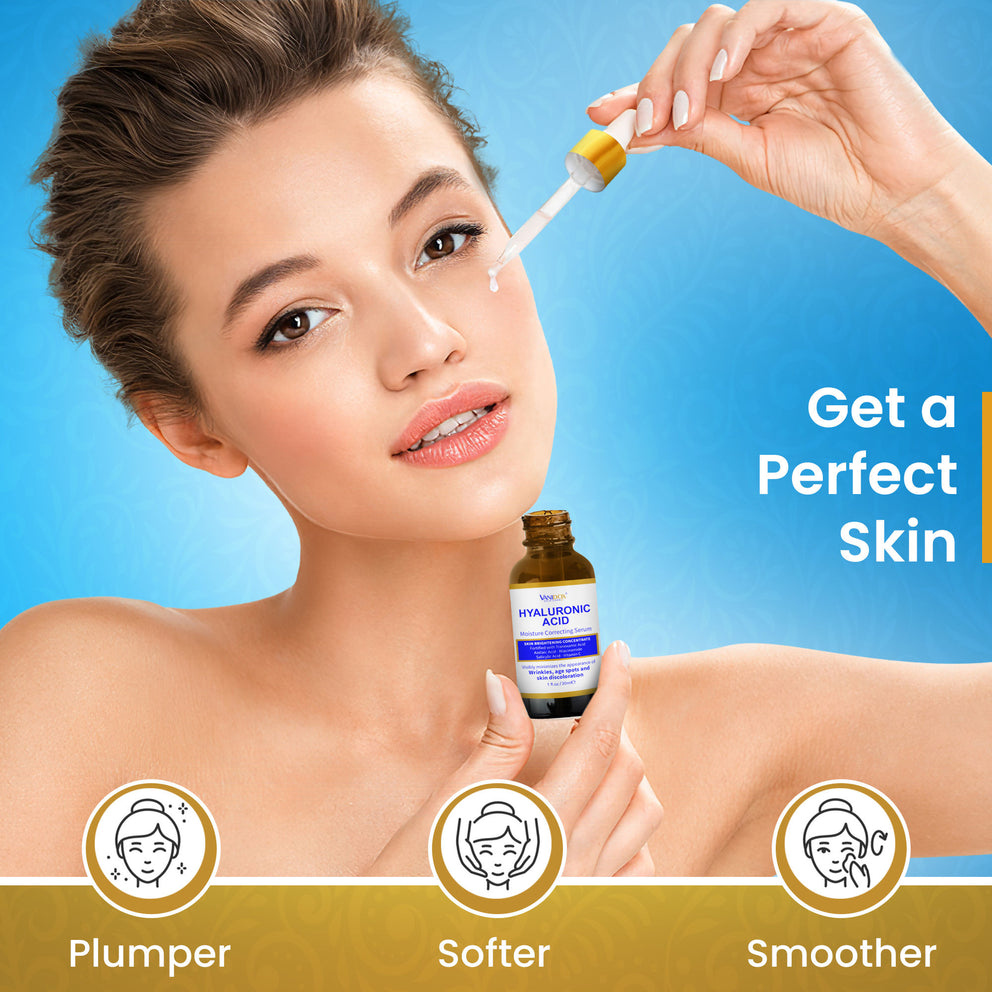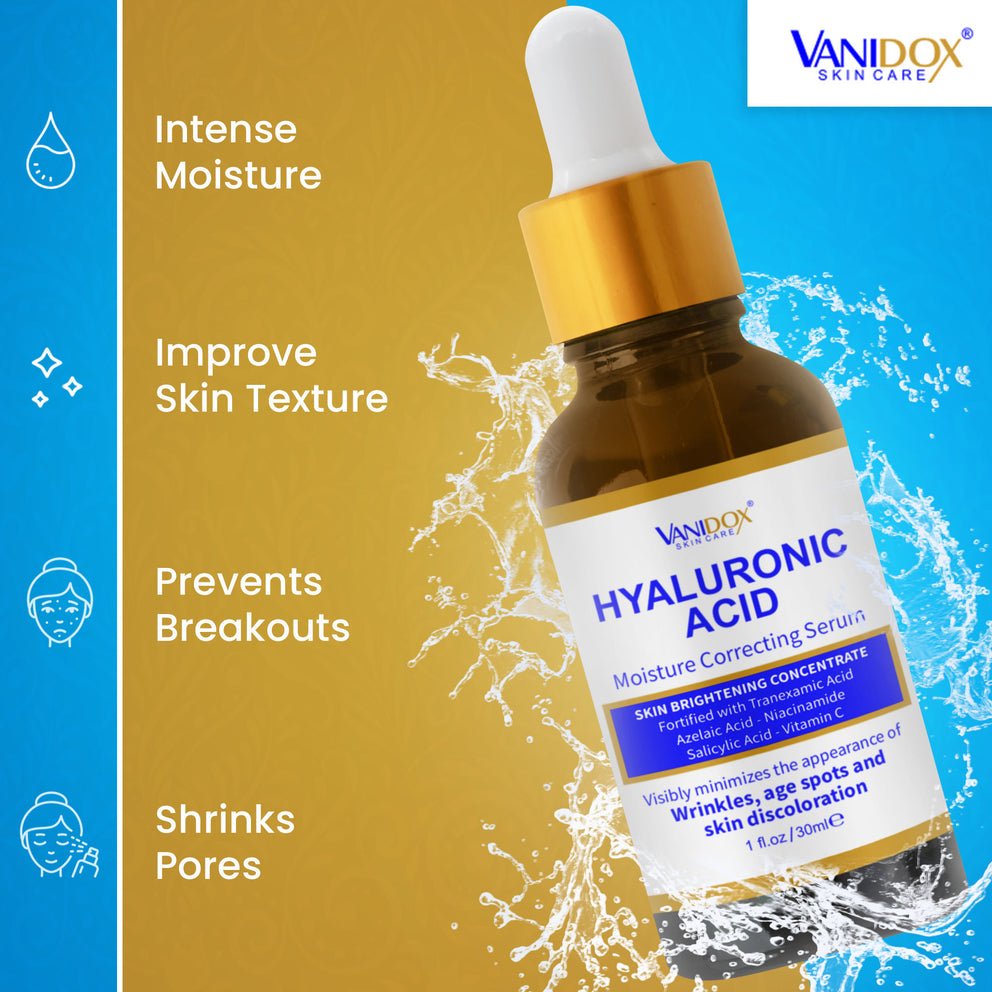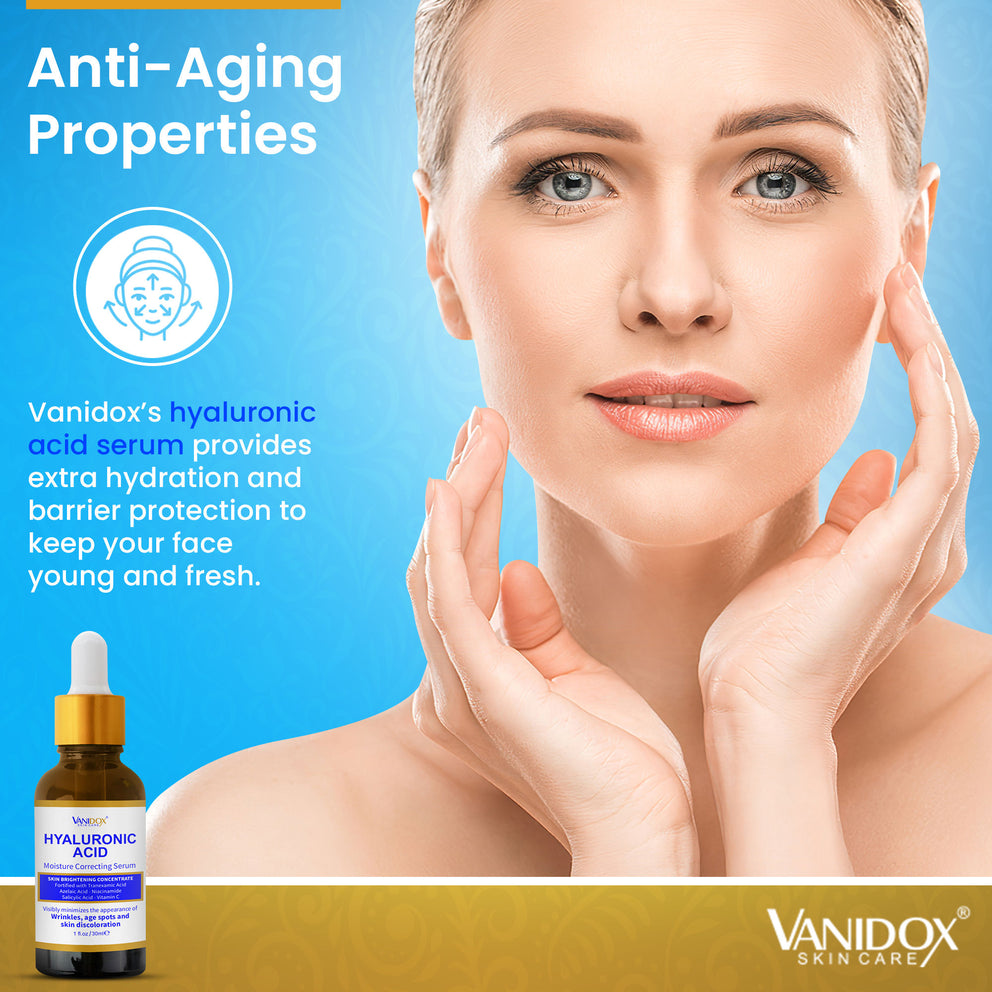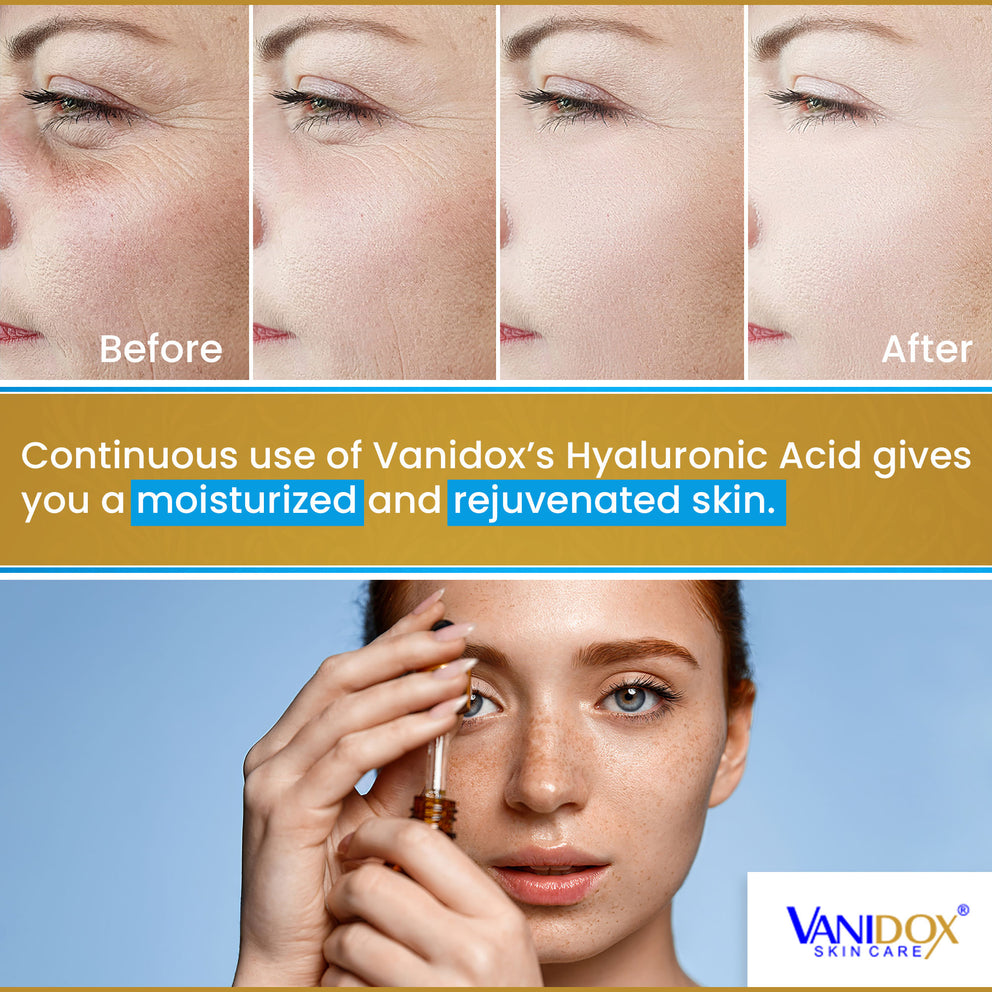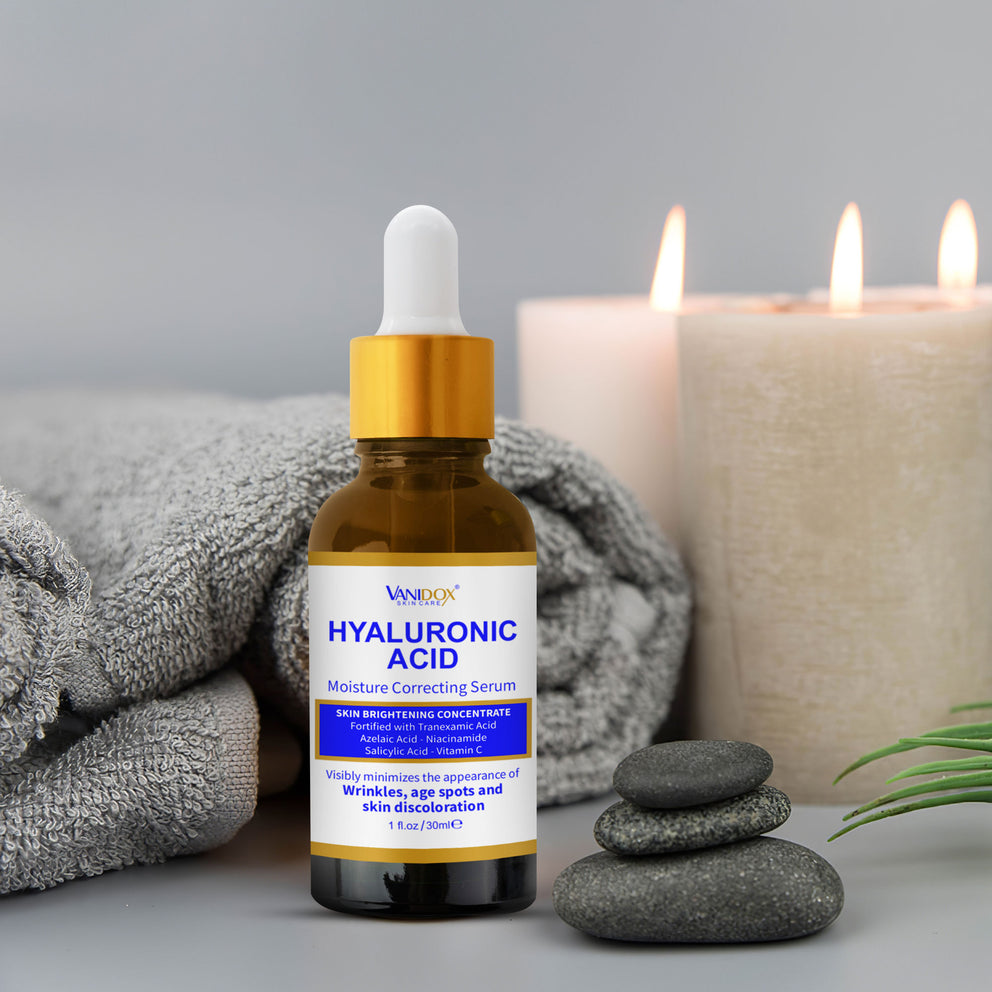 Hyaluronic Acid Serum for Face and Neck. Anti Aging Formula for Fin...
$24.95
$34.93
Get softer, plumper, and smoother skin with the daily drops of Hyaluronic Acid Serum from Vanidox. It's an intensive moisturizer correcting serum made from pure Hyaluronic Acid and fortified with Salicylic Acid, Niacinamide, Azelaic Acid, Tranexamic Acid, and Vitamin C. The best thing about this serum is its anti-aging properties. It helps minimize the appearance of wrinkles, age spots, fine lines, and skin discolorations because of its pure Hyaluronic Acid. It also boosts your skin tone, texture, and hydration, keeping it looking healthy and radiant. Do you have dry, oily, or sensitive skin? Don't fret, as this serum is suitable for all skin types. Apply it to your face and neck regularly, and you'll notice visible results in no time. Truly, Vanidox's Hyaluronic Acid Serum is a perfect addition to your daily skincare routine. PROVEN ANTI-AGING AND ANTI-WRINKLE SKINCARE PROPERTIES: Hyaluronic Acid provides incredible hydration by holding up to 1000 times its weight in water providing instant relief for skin.   HYDRATING SERUM: Formulated with Hyaluronic Acid and boosted with essential vitamins to help improve skin tone, texture, and hydration for a healthy looking radiant skin.   MAKE THIS FACE BRIGHTENING SERUM YOUR DAILY ROUTINE: our Boosted Hyaluronic Acid Serum penetrate deeper skin levels and hydrate them. Deep hydration prevents inflammation, common issue that leads to reduced resilience to pollution, sun exposure, cold, and wind. SUITABLE FOR EVERY SKIN TYPE: dry skin, oily skin, combination skin, sensitive skin and mature skin. Effective for all skin tones. Product highlights: Intensive moisturizer correcting serum Anti-aging and anti-wrinkle properties Reduces fine lines, wrinkles, age spots, and skin discoloration Deep hydration to prevent inflammation and other common skin issues that lead to reduced resilience to pollution, sun exposure, and other harsh weather elements Suitable for all skin types, including oily, dry, and sensitive skin Perfect addition to your daily skincare regimen Ingredients: Pure Hyaluronic Acid and fortified with Salicylic Acid, Niacinamide, Azelaic Acid, Tranexamic Acid, and Vitamin C.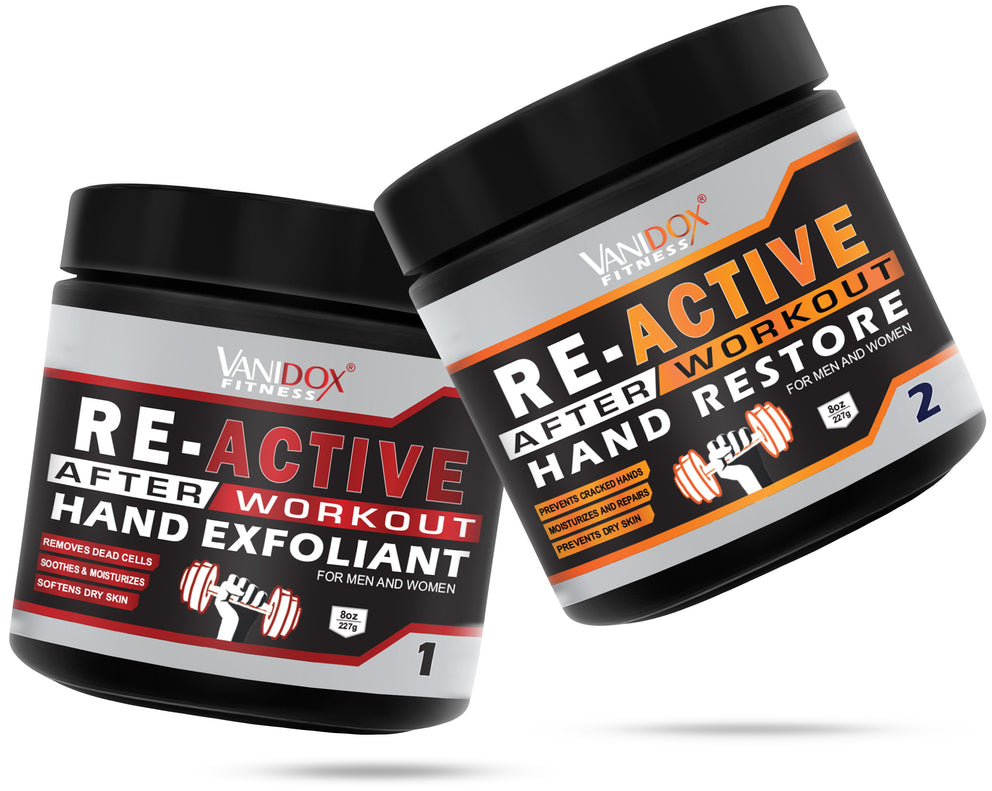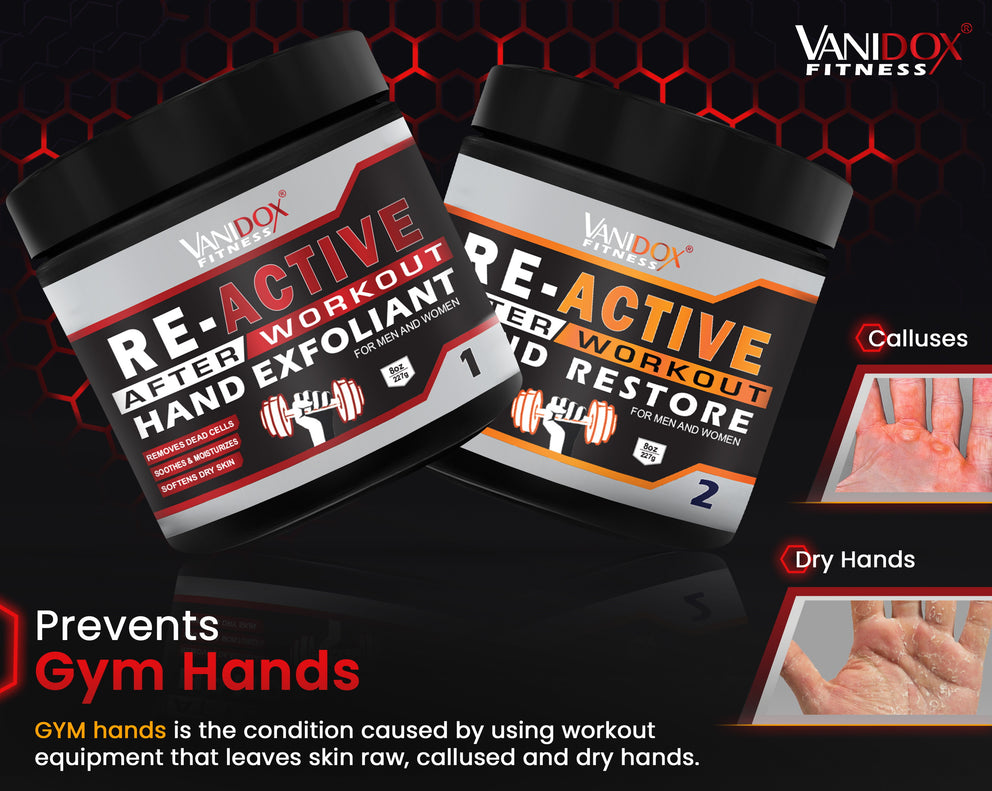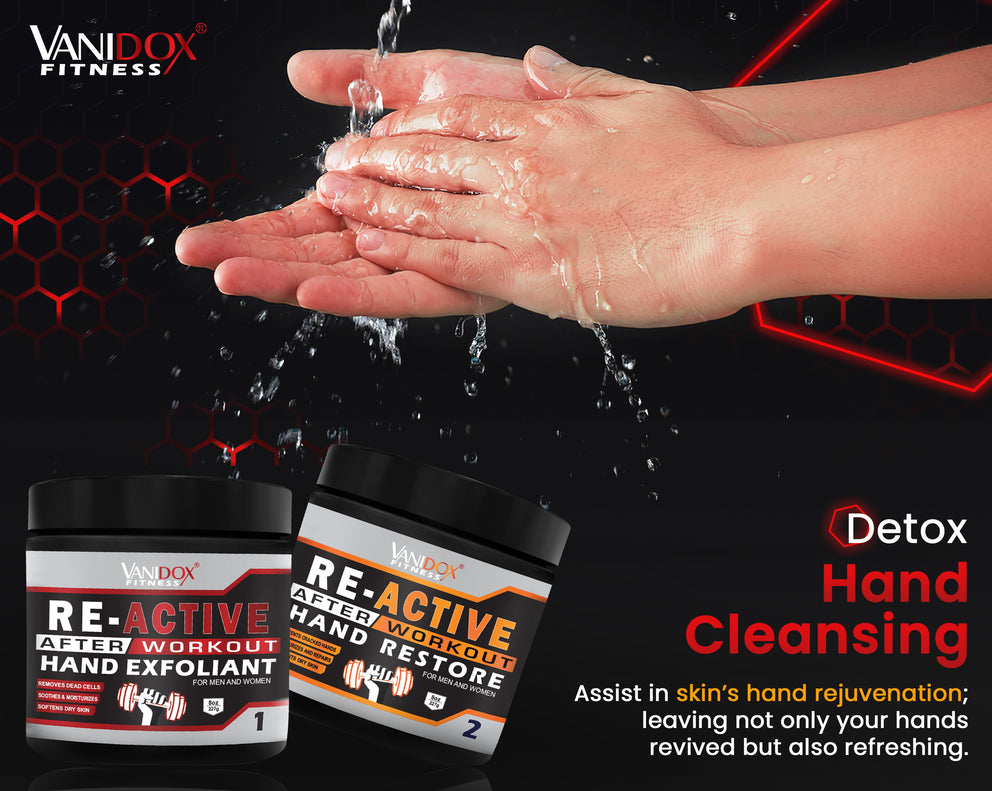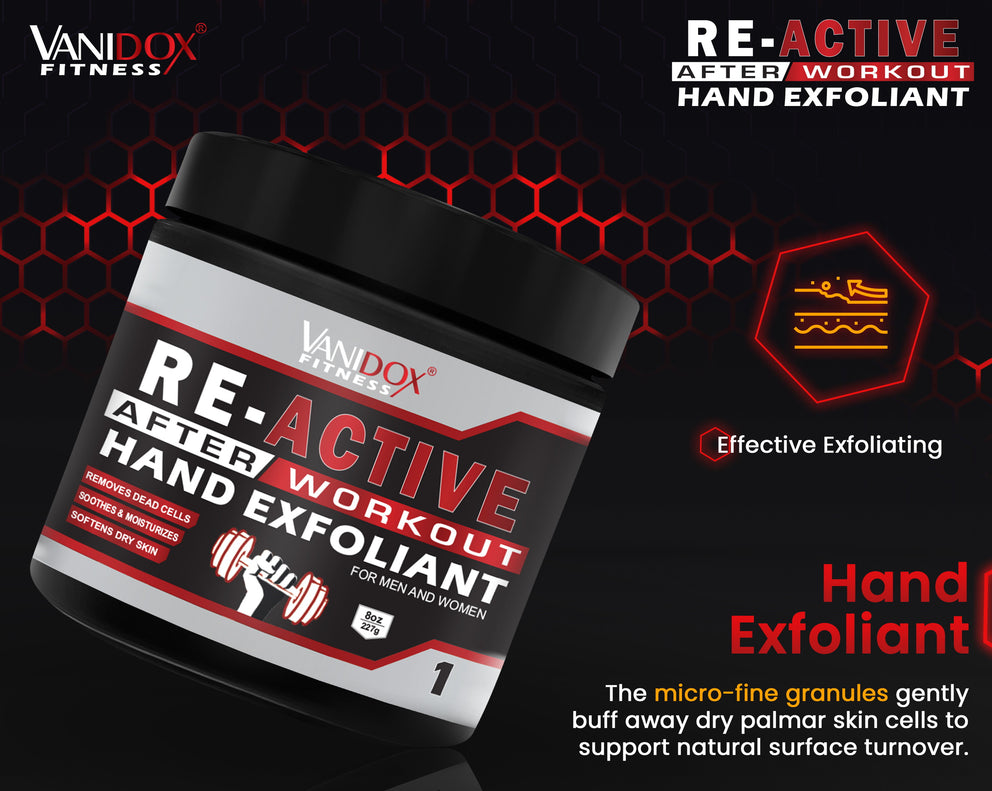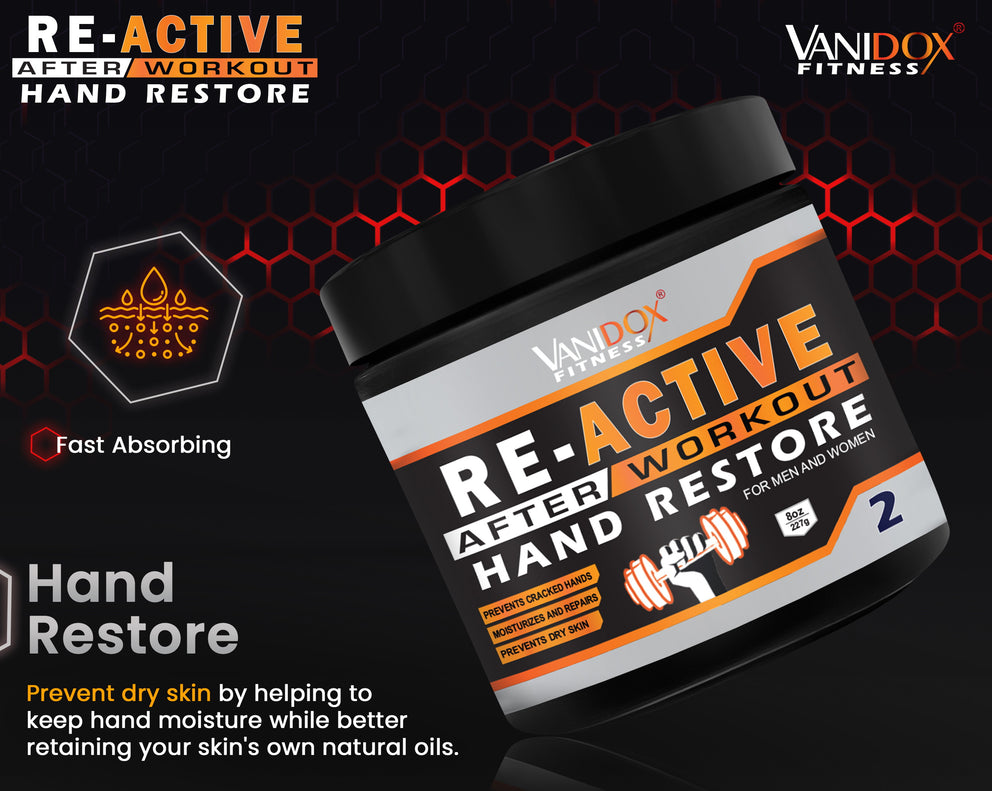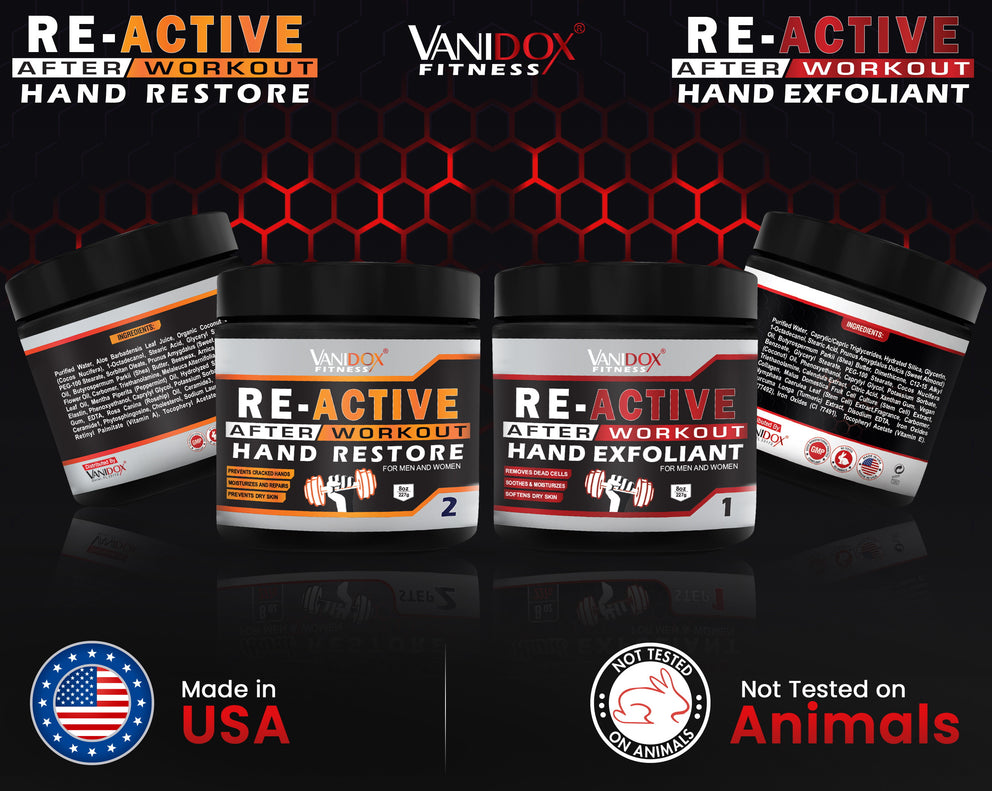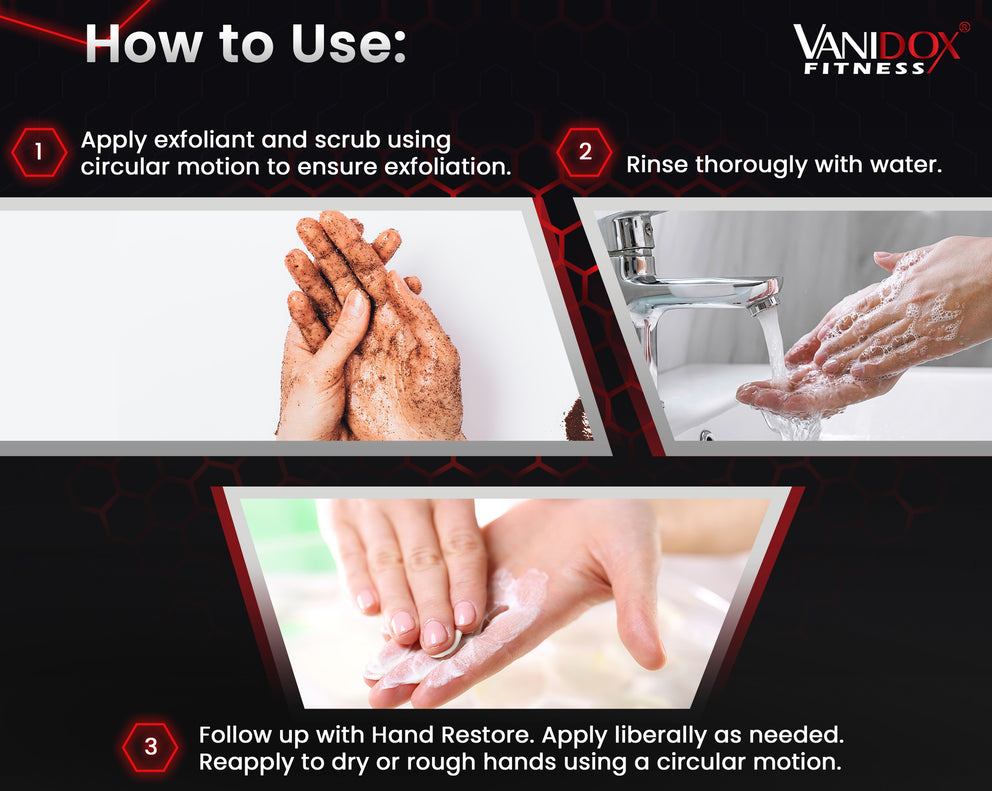 After Workout Hand Care - Removes Dead Cells, Moisturizes, Repairs ...
$24.99
$35.70
Going to the gym and getting in shape takes a lot of courage, dedication, and hard work. This can even mean getting bruises, muscle aches, and most of the time gym hands.  When you start lifting weights or use workout equipment, your physical state and body go through a lot of adaptations. This mainly includes cracked hands especially when you do a lot of deadlifts, cleans, snatches, chins, and other exercises that involve holding bars.  Gym hands are an extreme nuisance, but with VANIDOX After Workout Hand Exfoliant & Hand Restore moisturizer, you can now effectively prevent gym hands. It removes dead skin cells, dirt, toxins, pollution, and oil impurities. Gym hands can be very painful but these hand care products will make sure that your skin will never crack or get dry. It will leave your hands revived and impressively smooth. Specifically designed to soften your dry skin while retaining your skin's natural oils, soothe and moisturize your skin, and give you more confidence, these hand care products are non-greasy, fast-absorbing, and are made from premium quality ingredients only. PREVENTS GYM HANDS: GYM hand is the condition caused by using workout equipment that leaves skin raw, callused and dry. Weights can lead to calluses while the rubber material which covers many machines is known to cause extremely dry and painful skin. DETOX HAND CLEANSING: removes dead cells, dirt, toxins, pollution, and oil impurities. Assist in skin's hand rejuvenation; leaving not only your hands revived but also refreshing. HAND EXFOLIANT: the micro-fine granules gently buff away dry palm skin cells to support natural surface turnover. HAND RESTORE: moisturizes and repairs dry and cracked hands. Prevent dry skin by helping to keep hand moisture while better retaining your skin's own natural oils. Absorbs into extra dry skin, including typically rough spots. Non-greasy, fast-absorbing. HOW TO USE IT? Rub the RE-ACTIVE Exfoliant on your hands after your workout to gently buff away dead skin, remove dirt, eliminate oil impurities, and smooth out rough calluses. Rinse off the exfoliant with water and apply the RE-ACTIVE Restore on your hands. Our quick-healing formula acts fast, moisturizing and repairing your dry & damaged skin.  We designed our signature formula to not only be highly effective, but 100% safe to use. As with all of our products, Vanidox is committed to using only the utmost premium quality ingredients, individually hand-picked from vendors around the world. RE-ACTIVE Hand Restore is non-greasy, fast-absorbing, and keeps your skin healthier than ever.  At Vanidox, we are proud to admit that all of our products are made right here in the U.S.A. We believe in sustainability, that's why we only utilize environmentally conscious ingredients and NEVER test any of our products on animals.